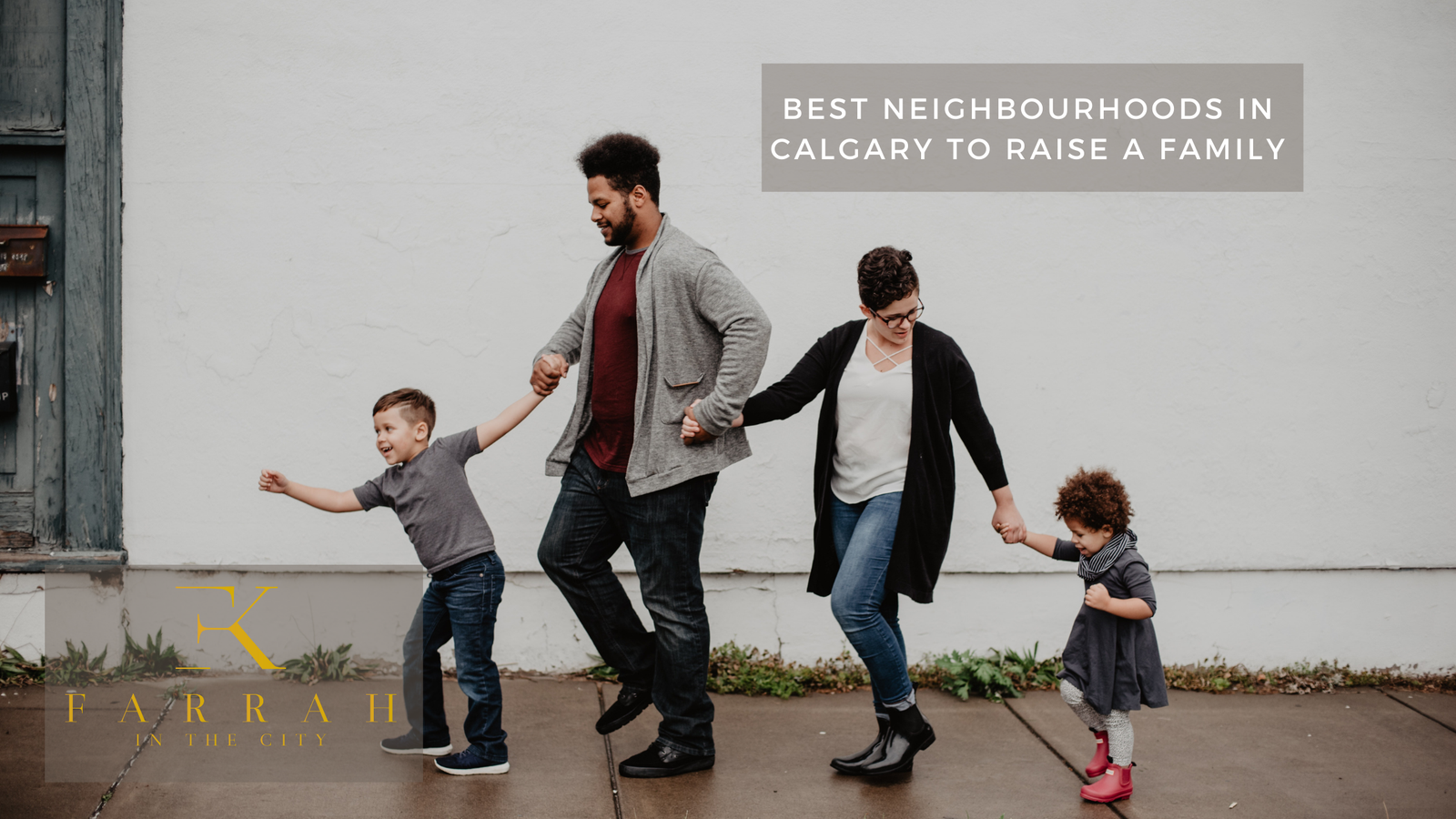 Choosing the right neighbourhood is crucial when looking for a family-friendly environment. In Calgary, a city renowned for its quality of life, numerous neighbourhoods cater to the needs of families. Whether you're a young family, an active family, or looking for specific amenities, this guide will help you explore the several neighbourhoods in Calgary for families.
Calgary boasts several neighbourhoods that excel in catering to families. Here are 15 neighbourhoods known for their family-friendly environments:
Altadore is a charming and well-established neighbourhood with a sense of community, making it an ideal place for families to call home. The tree-lined streets create a picturesque backdrop for residents, while the community's close-knit atmosphere offers a robust support system for families. 
Arbour Lake is a family-oriented community that revolves around its namesake lake, which provides residents with a beach, swimming, and a host of water-based activities. This feature makes it a standout choice for families seeking a close-to-nature lifestyle. 
The community's focus on building a strong sense of belonging and togetherness means children can grow up in a supportive environment. Arbour Lake also offers access to top-rated schools, ensuring a quality education for kids. Overall, it's a well-rounded community that combines natural beauty, recreational opportunities, and educational excellence.
Aspen is an upscale, family-friendly community that blends modern amenities and natural beauty. With beautiful parks, excellent schools, and convenient shopping centers, this neighbourhood caters to the needs of families. 
The well-planned layout ensures everything is within easy reach, making daily life more convenient for parents. At the same time, the green spaces and recreational facilities provide ample opportunities for children to explore and play. 
The overall ambiance of Aspen fosters a safe and comfortable environment for families looking for a blend of luxury and practicality in their residential choice.
Brentwood is a community that thrives in an intellectually stimulating environment, given its proximity to the University of Calgary. This makes it an excellent place for families who value education and a solid academic foundation. 
Top-rated schools in the area further enhance educational opportunities. The neighbourhood is intellectually enriched and offers the convenience of a C-Train station, connecting residents to downtown Calgary and various cultural and business opportunities. The serene residential streets and ample green spaces provide a secure environment for children to grow and learn.
Cougar Ridge is a community that beautifully balances a love for the outdoors with family-friendly amenities. Its well-planned layout incorporates green spaces, walking trails, and family parks, ensuring families have ample outdoor recreation and bonding opportunities.
West Springs Plaza, a short distance away, offers convenience for parents, with shopping and dining options. Moreover, the community's highly rated schools guarantee a quality education for children. Cougar Ridge is an ideal neighbourhood for active families who appreciate the beauty of the outdoors and a tight-knit community.
Discovery Ridge is a peaceful and picturesque community nestled against the natural beauty of Griffith Woods Park. Families who value a close connection to nature will find this neighbourhood appealing. 
Children can grow up with easy access to hiking trails, wildlife encounters, and various outdoor activities, all while being just a short drive from downtown Calgary for parents' work and cultural interests. The blend of tranquillity and nature in Discovery Ridge creates a unique environment for families to thrive, allowing them to appreciate the beauty of the great outdoors without sacrificing urban convenience.
Edgemont is renowned for its strong sense of community and family-friendly atmosphere, making it a perfect choice for families seeking a welcoming environment. The neighbourhood boasts excellent schools, ensuring a high-quality education for children.
Edgemont is a haven for outdoor enthusiasts, with numerous parks, green spaces, and well-maintained pathways for walking and biking. Its residential streets exude a quiet and secure ambiance, making it an ideal place for children to grow and explore. The community's blend of educational excellence, green spaces, and a tight-knit community make it an excellent place for families to establish roots.
Evanston is a rapidly growing community that offers affordable housing and a wealth of family-friendly resources. Families settling here will find a continually expanding community, providing numerous amenities and services to support their needs. 
With a range of schools, parks, and recreational facilities, Evanston ensures that children have access to quality education and plenty of opportunities for play and socialization. Its inclusive atmosphere and modern conveniences make it an ideal place for families of all sizes, with a strong sense of belonging and community spirit.
Garrison Green is a serene residential neighbourhood combining quiet living and downtown Calgary's proximity. Families residing here appreciate the peace and tranquillity of its streets, with beautiful parks and green spaces creating a safe and attractive environment for children to thrive. 
With quality schools and educational institutions nearby, Garrison Green provides a strong foundation for a child's academic journey. The community's charm and convenient access to the city's heart allow parents to maintain a work-life balance while raising their family in a supportive and peaceful environment.
Mahogany is a standout community due to its private lake and beach access, making it a haven for families who love water activities and outdoor adventures. This aquatic feature provides endless entertainment for children and fosters a strong sense of community as families come together around the water's edge. 
Beyond the lake, the community offers excellent educational opportunities and numerous amenities, ensuring families have everything they need for a comfortable and fulfilling life. The combination of recreational water activities and family-centric resources makes Mahogany an attractive neighbourhood for those looking to embrace a vibrant and active lifestyle.
Sunnyside is a historic yet trendy neighbourhood with a strong sense of community, making it a fantastic place for families to call home. Its history and character provide a unique atmosphere that blends seamlessly with modern conveniences.
Tuscany is a beautiful community known for its stunning mountain views and abundant green spaces. Families living here benefit from the picturesque surroundings and a family-friendly atmosphere. Top-rated schools ensure a high-quality education for children, while sports facilities and community events keep families active and engaged. 
Tuscany's warm and welcoming ambiance fosters a strong sense of belonging, making it an excellent neighbourhood for families to grow and create lasting memories in a tranquil yet vibrant setting.
Bowness is a culturally rich and affordable community that combines history, diversity, and convenience. Families who appreciate a welcoming and diverse environment will find Bowness appealing. The community's proximity to Bowness Park provides endless opportunities for outdoor activities, including picnics, paddle boating, and ice skating in the winter. 
Bowness also boasts a range of schools and educational institutions to cater to families' educational needs. The lively Bowness business district offers convenient shopping and dining options, making this neighbourhood an excellent place for families to settle and enjoy a unique blend of culture, recreation, and convenience.
Vista Heights is a residential gem known for its affordability and peaceful atmosphere, making it an excellent choice for families looking for simplicity and serenity. The neighbourhood's affordability allows many families to make it their home. 
Vista Heights is nestled near Nose Creek Park, providing families with numerous green spaces and pathways for outdoor recreation, ideal for strolls and quality family time. The quiet streets and peaceful surroundings create a secure environment for children to grow and learn, making Vista Heights an inviting and budget-friendly choice for families looking for a close-knit community.
Riverbend is a tranquil and family-oriented community with plenty of parks and schools, making it an ideal place for families to settle down. The neighbourhood's peaceful ambiance and well-maintained green spaces provide a haven for children to grow and explore. 
Riverbend's proximity to the Bow River offers numerous outdoor opportunities, from scenic walks to cycling. While residents enjoy the quiet residential streets, the neighbourhood is also well-connected to the rest of Calgary, ensuring parents can access the city's amenities and resources quickly.
When choosing a community to live in for your family, there are several factors to consider when deciding where to live.
Safety should be a top priority when choosing a neighbourhood for your family. Calgary, known for its low crime rates and vital community policing initiatives, offers a safe and secure environment for families to thrive.
Access to quality education is essential for families. Calgary boasts an excellent education system with many schools, including public, private, and specialized institutions. Parents can choose from various options to ensure their children receive a top-notch education.
Calgary is renowned for its abundant green spaces and recreational facilities. Family-friendly neighbourhoods feature well-maintained parks, playgrounds, and community centers, providing ample opportunities for children to play and families to engage in outdoor activities.
Having reliable healthcare facilities nearby is crucial for families. Calgary offers a robust healthcare system, including hospitals, clinics, and specialized healthcare centers. Family-friendly neighbourhoods prioritize access to healthcare services to ensure the well-being of residents.
Convenience is critical for families, and having essential amenities and shopping centers nearby makes daily life more manageable. Calgary's family-friendly neighbourhoods often feature well-planned communities with easy access to grocery stores, shopping malls, recreational centers, and family-oriented businesses.
Choosing the right neighbourhood for your family in Calgary is an exciting journey. You can find the perfect community that meets your family's needs by considering safety, education, parks, healthcare, and amenities.
Explore the family-friendly neighbourhoods mentioned in this guide and embark on a new chapter of your family's life in Calgary, confident in your decision to provide a nurturing and vibrant environment for your loved ones.
Make the most of Calgary's vibrant community spirit, excellent schools, and abundant recreational opportunities by partnering with a reputable realtor. Take the next step in finding your ideal family home and create lasting memories in one of Calgary's neighbourhoods for families!