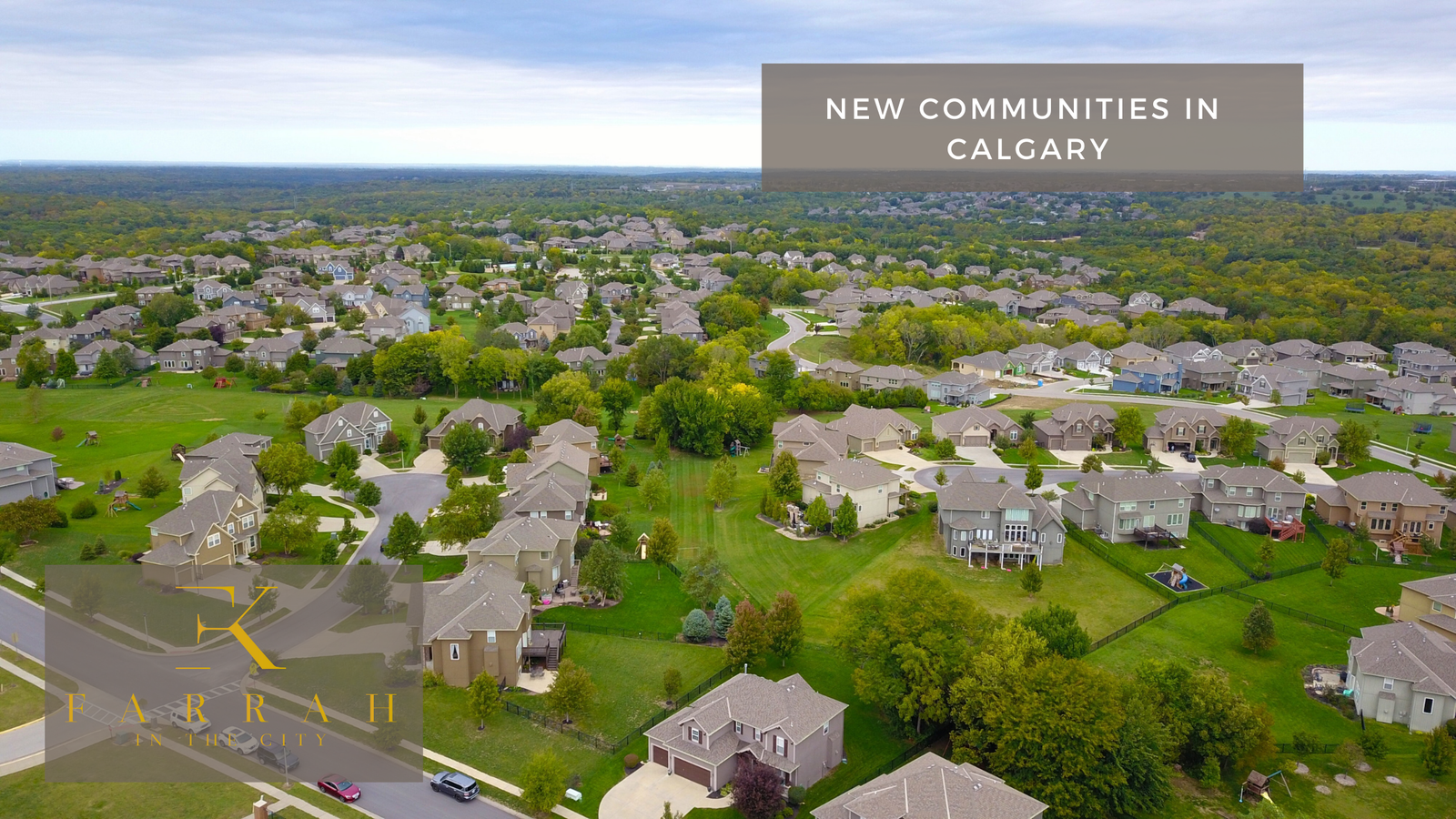 Keeping up with the latest developments in Calgary's real estate market is essential when finding a new place to call home. Calgary, a vibrant city in Alberta, Canada, constantly evolves and expands, offering exciting opportunities for homebuyers. 
This article will explore Calgary's most promising
new neighbourhoods and communities
, each with unique charm and appeal. Whether looking for modern urban living, tranquillity amidst nature, or a close-knit community, these up-and-coming areas have something to offer.
Here are 15 new communities in Calgary to explore:
Alpine Park
Belvedere
Glacier Ridge
Homestead
Hotchkiss
Huxley
Lewiston
Logan Landing
Rangeview
Rockland Park
Silverton
Vermillion Hill
Seton Ridge
Nostalgia
Ambleton
Now, let's explore highlights for the new communities!
Alpine Park
Nestled against the breathtaking backdrop of the Canadian Rockies, Alpine Park is a serene and picturesque community that beckons nature lovers and adventure enthusiasts. Residents of Alpine Park enjoy unparalleled access to the beauty of the great outdoors. The surrounding lush forests, tranquil lakes, and awe-inspiring mountain views offer hikers, skiers, and outdoor enthusiasts a year-round playground. 
This community provides a quiet escape from the urban buzz while maintaining proximity to all the amenities and conveniences you'd expect in a modern city, making it an idyllic retreat for those who appreciate the serenity of nature and the accessibility of city life.
Belvedere
Belvedere embodies timeless elegance with enchanting tree-lined streets and a harmonious blend of modern and traditional architectural styles. As you stroll through this community, you'll immediately sense unity and neighbourly warmth. 
Belvedere's residents take pride in maintaining its beauty and fostering a welcoming atmosphere. Families, in particular, find this community appealing, as it provides an ideal setting for raising children and building a lasting future within a close-knit and friendly environment.
Glacier Ridge
Nestled in one of the most picturesque areas in Calgary, Glacier Ridge is a true haven for those captivated by natural beauty's allure. The community is positioned near pristine lakes and surrounded by serene hiking trails, creating an environment that encourages exploration and appreciation of Alberta's stunning landscapes. 
Residents here revel in the boundless opportunities for outdoor adventures and embrace a lifestyle that celebrates the harmony between community living and the great outdoors.
Homestead
True to its name, Homestead embodies the quintessential spirit of a place where families can establish deep roots and create cherished memories. This community offers generously sized lots and a warm, inviting atmosphere that extends a heartfelt welcome to all who enter.
Homestead provides the perfect setting for individuals and families to lay down roots and build a future within a community that values togetherness and the comforts of home.
Hotchkiss
Hotchkiss, a thriving urban community, is renowned for its emphasis on sustainability and innovation. As a hub for tech startups and creative industries, it's a compelling destination for young professionals seeking new opportunities and like-minded individuals. 
This community is a testament to the harmonious blend of innovation and eco-conscious living, where you can embark on a journey of growth and success while being part of a community that embraces the future.
Huxley
Huxley is a community that strikes a delightful balance between small-town charm and modern conveniences. Its close-knit community and scenic surroundings make it the ideal retreat from the urban hustle and bustle. 
In Huxley, you'll find charming streets where neighbours know one another by name and peaceful, idyllic settings that make you feel at home. It's a place where you can embrace the tranquillity of rural living without sacrificing the modern amenities you need.
Lewiston
Lewiston is a vibrant and diverse community hub for cultural activities and artistic expression. From art galleries to theatres, it's a place where creativity thrives, and the community celebrates its rich cultural scene. 
The lively atmosphere here is enriched by the myriad of events, festivals, and artistic endeavours that provide entertainment and inspiration to residents and visitors alike.
Logan Landing
Logan Landing is a community that embodies the essence of contemporary living. With its modern amenities, well-designed infrastructure, and accessibility to essential services, it's a place where you can enjoy a comfortable and convenient lifestyle. 
The community's well-planned layout creates a sense of order and organization, making it an excellent choice for those seeking a well-rounded urban living experience.
Rangeview
Rangeview is an enclave of tranquillity in the heart of Calgary, offering its residents a peaceful and spacious living environment. With ample green spaces, serene parks, and thoughtfully designed homes, it retreats from the hustle and bustle while maintaining easy access to the city's amenities. 
Rangeview is a testament to the idea that you can enjoy the best of both worlds—nature and convenience—in one harmonious package.
Rockland Park
Rockland Park is a community that caters to those who appreciate a blend of modern living and natural beauty. It's a place where contemporary architectural designs seamlessly integrate with the surrounding environment. With access to parks and green spaces, residents can find peace and serenity at their doorstep. 
Rockland Park offers a lifestyle that values aesthetics and functionality, making it an appealing destination for individuals and families seeking a well-rounded living experience.
Silverton
Silverton, nestled amidst scenic beauty, offers a respite from the urban chaos while providing a close-knit community experience. The community's focus on preserving its natural surroundings and encouraging a sense of togetherness creates a unique atmosphere. 
With lush greenery and serene open spaces, Silverton is a sanctuary where residents can escape the noise and unwind, making it the ideal destination for those who seek a balanced and harmonious lifestyle.
Vermillion Hill
Vermillion Hill is a community that embraces the allure of elevated living. Positioned atop picturesque hills, it offers stunning panoramic views of the surrounding landscape. 
The community's design is thoughtfully integrated with the land's natural contours, creating a sense of grandeur and exclusivity. Vermillion Hill is the epitome of luxury living, where residents can enjoy the best-elevated living while conveniently close to the city's amenities and services.
Seton
Seton Ridge is a forward-looking community that embodies modern living. With a focus on innovation and sustainability, it's a place where the future is brought to life. 
The community's commitment to cutting-edge technologies and eco-friendly practices sets it apart, making it an attractive destination for those who value progress and environmental responsibility.
Nostalgia
Nostalgia is a community that pays homage to the past while embracing the present. It's where you can find historic architecture, charming streets, and a strong sense of heritage. 
Nostalgia's residents take pride in preserving the community's history while enjoying the benefits of contemporary living, creating a unique blend of old-world charm and modern convenience.
Ambleton
Ambleton is a community that encourages a leisurely pace of life. With scenic walkways, tranquil parks, and a serene ambiance, it provides an ideal environment for those seeking a calm and relaxed lifestyle. 
Residents of Ambleton can take strolls through the neighbourhood, enjoy green spaces, and unwind, making it an appealing destination for those who value peace and tranquillity in their daily lives.
Find the perfect home in one of these new communities
As Calgary continues to grow, the emergence of new neighbourhoods and communities provides exciting opportunities for homebuyers. Whether you are searching for a vibrant urban experience, a serene natural retreat, or a close-knit community, Calgary has something to offer. 
By staying informed about the latest developments in new communities and neighbourhoods, you can discover the perfect place to call home in this thriving city.
Suppose you're ready to explore these new Calgary communities and find your dream home. In that case, having the guidance and expertise of a professional realtor who understands the local market is essential. A knowledgeable
Calgary Realtor
like Farrah Khoja can provide valuable insights, assist with property viewings, and help navigate the
home-buying process
smoothly.
Contact Farrah Khoja today to benefit from her expertise in the Calgary real estate market. With her assistance, you can make informed decisions and find the ideal new community that aligns with your lifestyle and preferences.
This blog post is informational and does not constitute legal or financial advice. No professional relationship is formed. Consult a qualified professional before acting on any information.